U pon enrolling in my first official Spanish class some three years ago, I readily assumed that a traditional classroom setting would be the most optimal environment for me to take on a second language…
and really learn it.
I quickly realized that this approach, however effective it may be for some, wasn't exactly going to be the best method for me, at least the only method.
So what did I do?
I turned to the interwebs to look to others and try to find some recources that might broaden my perspective.
And oh did I strike gold!
I found a whole world of resources, many of which are FREE — keyword for a broke student trying make his way in the city so nice (and expensive) that they named it twice.
So here I've compiled a list of 50 resources to get you started with your Spanish Language learning RIGHT NOW!
Resources that I've explored, some more so than others, but that along the way have helped me throughout my language learning career.
May I present to you the list…
1.) Enter the iTunes store — namely the Podcast section:
For those who aren't in the know, let me put you on game:
"A podcast is an episodic program delivered via the Internet using an XML protocol called RSS. Podcast episodes can be audio files, video files, documents, or any combination of the three. The publisher or broadcaster podcasts the program by posting the episodes and the XML document to a Web server. The consumer subscribes to the podcast using a client application, such as iTunes, which regularly reads the XML file and downloads new episodes."
– from the itunes Podcast FAQ page (Read more here)
In other words, Podcasts are kind of like "Do-It-Yourself" radio programs that vary in topic, format, style, length, etc, and a huge majortiy of them are FREE!!!
And so by perusing the catalogs of the "Language learning" section within the Podcast section of the iTunes store, I found a huge amount of Spanish language learning lessons, conversations, music and much, much more great content that has dramatically helped my listening comprehension, and I do believe can help yours.
The glory of podcasts resides in the fact that you can download them directly your Ipod, Iphone, Ipad, MP3 player, computer, and what have you, and take that content with you wherever you go.
I would basically dedicate my morning coffee ritual to a podcast, listen during my daily train or bus commute, put on an episode while lifting weights at the YMCA, or whenever I  had a free moment.
I found this to be great method to reinforce material I was either studying at the time or introduce myself to new concepts, words and structures, and dialects. Without a doubt, discovering Spanish language learning podcasts within  iTunes  has been one of the most helpful tools I've found and they have greatly benefitted my language learning.
To Download iTunes: http://www.apple.com/itunes/
Tips for finding podcasts on iTunes: http://www.apple.com/itunes/podcasts/
2.) Radiolingua Network — Coffee Break Spanish and Showtime Spanish.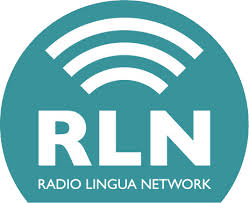 Coffee Break  and Showtime Spanish, not to mention the whole Radiolingua network, were the brainchild of Mr. Mark Pentleton, a scottsman who has some real nice Spanish speaking chops. Before becoming a podcaster full-time, he was a professional language instructor and teacher. He speaks something like 4 other languages, has lived in Spain, and has a serious passion for learning.

I first began listening to CoffeeBreakSpanish, a series geared towards beginners, when I was just starting out in Spanish 1. After working my way through all 80 episodes, I moved on up to ShowtimeSpanish, a series for intermediate to advanced learners, and quickly consumed every episode. Although, both series cater towards Iberian or the Spanish spoken in Spain, the lessons can still be of great value to those who are more interested in the Latin American varieties —  there's definitely much to learn.

CoffeebreakSpanish on iTunes: http://itunes.apple.com/us/podcast/coffee-break-spanish/id201598403
ShowtimeSpanish on iTunes: http://itunes.apple.com/us/podcast/show-time-spanish/id292186110
Facebook Fan Page: http://www.facebook.com/radiolingua
SpanishPod101.com has a vast selection of podcast lessons for learners of all skill levels, and you can get their whole catalogue — transcripts and all — for something like $4/month. Otherwise it's free.
I've really enjoyed listening to some of their Regional Audioblog series', particularly those of Peru and Costa Rica. Also, the verb conjugation series is right on with some really thorough explanations.
I would say it's definitely a quality site. And one of their Podcast hosts, Joseph Mulligan, developer of some 400+ lessons on the site, has an interesting bilingual blog focusing on translation, poetry, polemics and other themes called "The Smelting Process."
SpanishPod101 on Itunes: http://itunes.apple.com/us/podcast/learn-spanish-spanishpod101.com/id270572701
4.)  Notes in Spanish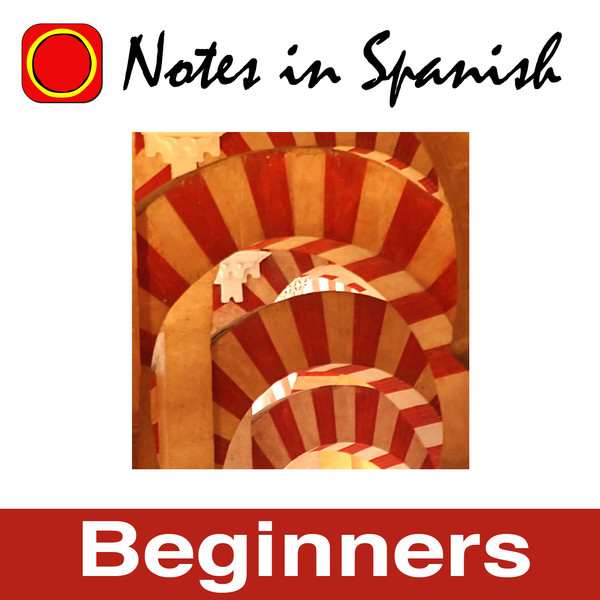 Here you have another really great podcast. Created by Ben Curtis and Marina Diaz, a british/spanish couple living in Madrid, the NIS podcasts are based upon different cultural themes related to life in Spain. Although, I haven't become a member of their site, they have a vast catalogue of all different skill levels available for free on itunes.
This was another go-to podcast for my daily commutes round Brooklyn and New York City.
NIS on Itunes: http://itunes.apple.com/us/podcast/notes-in-spanish-intermediate/id189219027
NIS on Facebook: http://www.facebook.com/realnotesinspanish
5.)  Alba learning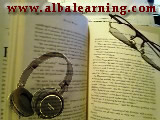 Albalearning hosts a vast catalogue of audiobooks, cuentos and poetry in Spanish and English that are also accompanied by audio to listen.
It's clearly a site created out of a great love for books.
And for that reason, I love it.
From the website: "Si considera que nuestra web hace una labor digna de ser mencionada, rogamos hable de ella y establezca enlaces a la misma. AlbaLearning es una web sin ánimo de lucro cuyo único objetivo es promover y extender el amor por los libros, la lectura y las lenguas. Por ello, no requiere para descargar sus audiolibros ningún dato personal (no hay que registrarse), no hay anuncios ni spam, y no le hace pasar por innumerables páginas hasta llegar a la página final de descarga, la cual se hace en un solo clic y sin tiempo de espera."
This site quickly became my "bedtime story" audio, if you will, after finding it. I would download an audio book (http://albalearning.com/audiolibros/) load it into iTunes, point the speakers toward my ear, hit play, close my eyes and let the sweet words of miss Alba lull me to sleep. Definitely a great resource.
Audiolibros: http://albalearning.com/audiolibros/
Albalearning on Facebook: http://www.facebook.com/albalearning
Albalearing on Podomatic: http://audiolibros.podomatic.com/
As you may have guessed from the title, this podcast series is basically a summarization of various world news events in SLOOOOOOW spanish. They do a great job with providing key vocabulary for each podcast and is especially useful for beginners who are having trouble with the speed of the naturally spoken language.
NISS on Itunes: http://itunes.apple.com/us/podcast/spanish-podcast/id305590390
NISS on Facebook: http://www.facebook.com/realnotesinspanish
7.)  Medical Spanish with Molly Martin (and Grammar)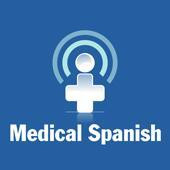 I'll admit I didn't give too much attention to Molly Martin's medical podcasts at first, as that sort of terminology didn't really have any thing to do with my particular language goals; however, once my Spanish II course rolled around and we were covering material regarding medical terminology and parts of the body — this podcast became a lifesaver!
Not to mention, I totally geeked out on her Spanish Grammar Review podcast, an accompaniment to the medical podcast that focuses on some of the more subtle and complicated aspects of Spanish grammar.I found them to be quite helpful, especially the episodes regarding the "relative pronouns." You might find her to be a little boring, but like I said, if you don't dig on this one, there's always the next one.
Grammar podcast: http://medicalspanishpodcast.com/grammar
Medical Podcast on iTunes: http://itunes.apple.com/us/podcast/medical-spanish-podcast/id263417520
Grammar Podcast on iTunes: http://itunes.apple.com/us/podcast/spanish-grammar-review/id262408151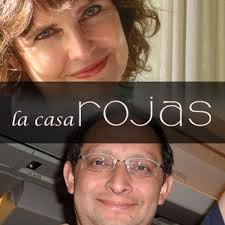 With la Casa Rojas Spanish, Luis Rojas, a native peruvian who lives with his wife in the U.S., discusses various themes and ideas related to music, history, culture, literature, and food in his podcast. I have enjoyed listening to his shows about surfer rock in Peru in the 60's, and each episode has a most beautiful theme song.
La Casa Rojas Spanish on iTunes: http://itunes.apple.com/us/podcast/learn-spanish-la-casa-rojas/id213328334
This podcast has some really great readings of cuentos and short stories with high producion value. I really like the reading of Uruguayan writer Mario Benedetti's "El Otro Yo." I would say this podcast mainly caters towards Iberian Spanish, so those interested in latin american spanish but look elsewhere, but there is still really great content.
Voices en Español on iTunes: http://itunes.apple.com/us/podcast/voices-en-espanol-podcasts/id266594479
Voices en Español on Facebook: http://www.facebook.com/VoicesEnEspanol
9a.) Dímelo Camiando Spanish Language Learning and Latin America Travel Podcast: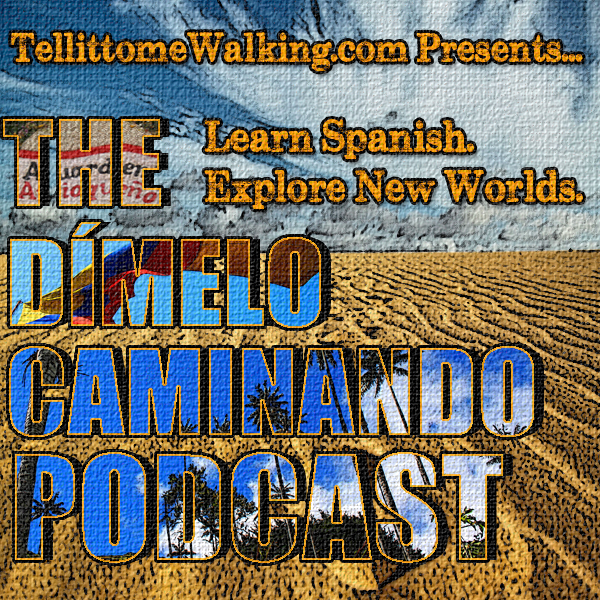 ¡Dímelo Caminando! is my very own podcast dedicated to Spanish language learning, latin america travel, and on-the-ground education. 
My goal is to help you learn and explore the wondrously diverse Spanish of Latin America, and discover in different ways how each country and its people give life to their language and culture.
Within each episode we'll focus on exploring different linguistic, cultural, and historic themes, as well as regional speech, idiomatic expressions, and popular language through interviews and short conversations with experts, local slang masters, and Spanish speakers from all over Latin America, starting with Colombia and Ecuador.
You can check out the first episode featuring the Castellano of Bogotá, Colombia here, and download the conversation transcript by right clicking here.
You can also find us on iTunes, or subscribe via RSS.
And to learn a little bit more about the project, you can go here.
Thanks for listening!!!
10.)  iTtunes Bonus Tip:
Let's say none of the podcasts above strike your fancy. Nothing's doing it for you.
I have another tip for you:
Open up the iTunes program, enter the itunes store, and scroll down, all the way until you see 4 categories titled "explore," "features," "Help," and "manage."
Below the category that says "manage," click on the link "change country."
The next screen should offer you a huge selection of different countries in which iTunes has some sort of headquarters.
Some of them only have iphone apps available, but there are others that have real audio content created in the countries that speak your target language.
In our case, we want to find more spanish podcasts, so try changing your country to Spain or Argentina or Colombia.
Navigate around the different categories to see if you find anything you like. As I write this, I'm listening to the Radio Nacional de Colombia podcast…
This is just another way to explore what's out there. iTunes and all the podcasts it hosts can be a language learners best friend when he or she is in need of some new and diverse input.
11.)  Wordreference.com and the wordreference.com forums;
To play on a line from the movie The Crow:
"Word reference.com is the name for god on the lips and hearts of every language learner."
This site is without a doubt one of the greatest resources imaginable for spanish language learners.
Not only does it have an entry or multiple for just about every single word imaginable en español, but it also has very good verb conjugators and a mobile app for the iPhone and Droid.
And don't even get me started on the forums.
There's gold in those hills, there's gold I say!!!
You better believe that almost any question you have can and will be answered in the wordreference forums. It has never let me down. Just try searching whatever it is you want to know regarding your target language in the dictionary and thread title search.
And If for some reason you don't find what you are looking for, try google searching:
"wordreference.com forum: insert your question or word or construction here."
I guarentee you will not be let down. Nuff said.
12.)  Google Translator
Now you can't always rely on google translator to give you the exact answer you're looking for; however, I find it to ne very good for cross-referencing word definitions, as well as translating easier sentence constructions.
Remember: It's not always right, you can't rely on it for many colloquial translations, but at least it can help point you in the right direction.
13.) Spanishdict.com – The second best spanish dictionary I've found.
If for some reason I can't find what I'm looking for in wordreference.com or I just want to cross reference another definition, I go to spanishdict.com. They also have a free iphone, iPad, ipod application that has thus far treated me well.
14.) Urbandictionary.com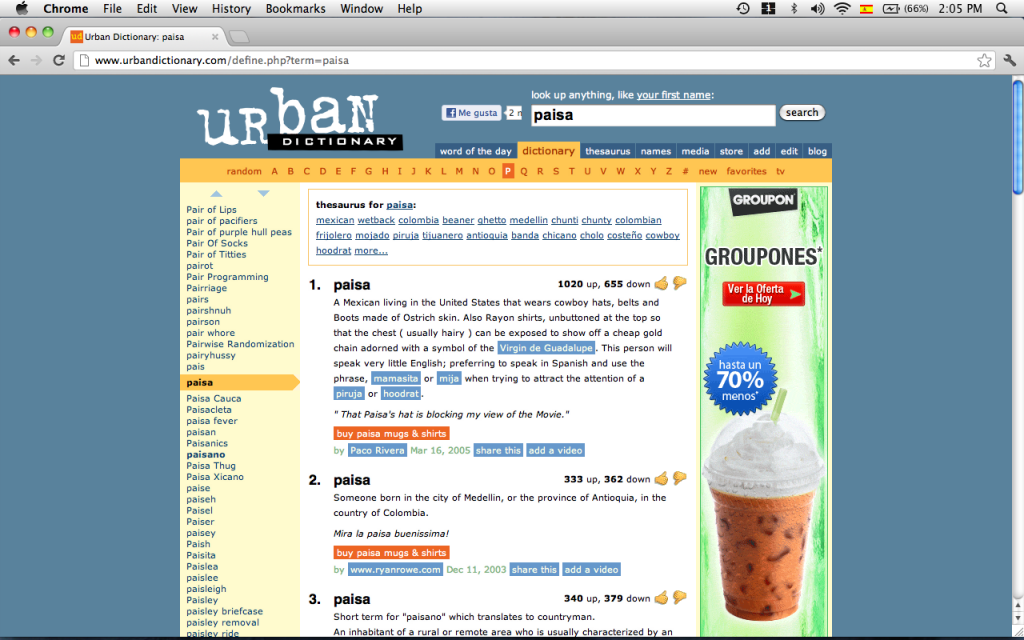 Having trouble with an idiom, a colquial expression, or slang word that you keep encountering, but just can't find a proper definition?
Check out the Urban Dictionary. If wordreference or Spanishdict.com fails you, 9 times out 10 you'll find what you're looking for on this site.
15.) Lingro.com —  "the coolest dictionary known to Hombre"
There's no doubt about it, Lingro.com is exactly what it's tagline says: It is the coolest dictionary known to hombre.
This website will save you so much time while reading in your target language. It's really quite magical.
First, open up a new tab. Go to the webpage that you plan to read in your target langauge.
Seeing how I'm writing this in Bogotá, Colombia, Let's say, eltiempo.com, Colombia's national newspaper.
I'm going to copy the web address.
Then I open a new tab  and go to Lingro.com.
I paste the address for Eltiempo.com in my textbox. Select which dictionary you will be using. I'm going from Spanish to english, then click the blue arrrow.
Lingro regenerates the eltiempo.com page making every single word clickable with an instant definition.
No more having to constantly stop while you are reading and look up a word in your dictionary, as the definition appears right next to the unknown word. You can then save those words in lists and future review.
Tip: Even though lingro.com has over open up 8 million references in 11 other languages, sometimes there isn't a definition listed or the one that appears isn't necessarily applicable to the context.
So what I like to do is open up a 3 other tabs, one with wordreference.com, the second with google translate, and the 3rd with spanishdict.com.
With these 3 reference checkers on your side, you'll be dangerous. You'll be a monster. You'll be a reading machine. You'll be Johnny 5!!!
16.)  Anki SRS Virtual Flashcards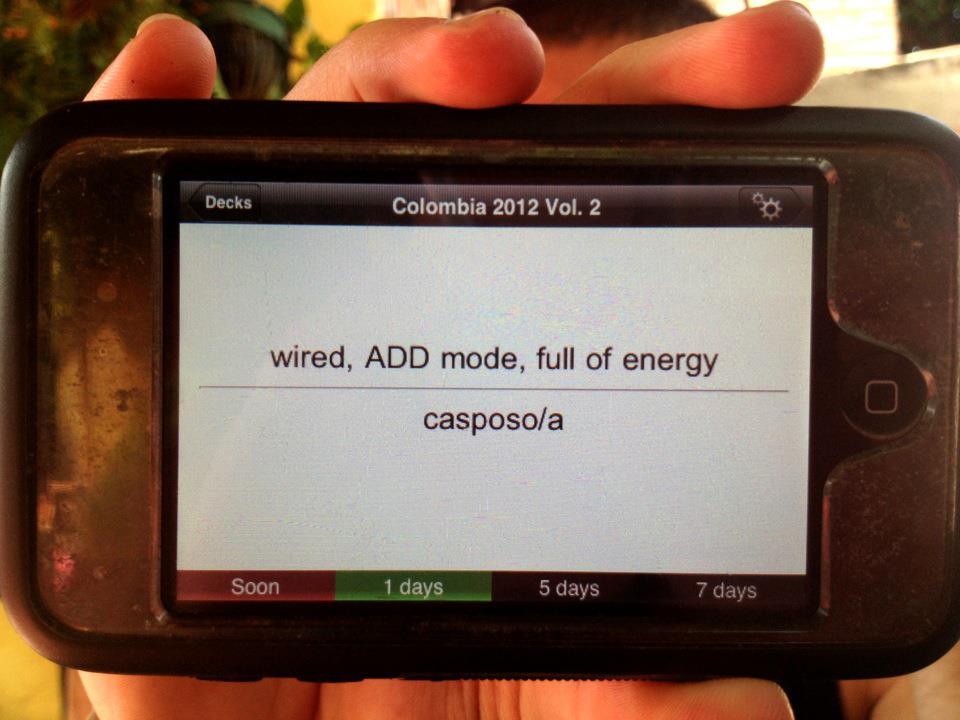 I'm absolutely in love with Anki!
If you're one for using flashcards to study, you'll love it too.
Anki is a "smart" virtual flashcard program, or Spaced repetition System, you can download for free to you computer (or pay $25 for the mobile application) which, essentially, helps you remember things, such as vocab, grammar rules, verbs, any information that you want to remember.
Anki uses spaced repetition or (SRS), a system of information review that focuses on the importance of spacing study material at increasing intervals based on the brain's natural curve of forgetting information.
According to Anki's algorithm and the user's, your, input, Anki will show you the "card" containing the information you want learn shortly before you are likely to forget it.
In other words, Anki will predict when you are about to forget the information on the card and space your review accordingly, asking you questions or showing you the card right before you naturally forget, making it much more likely that you will remember or recall the information.
I've found Anki to be extremely efficient, and saves me time, one, by allowing me to study only the items or material that I'm having trouble remembering, and, two, with the mobile app I can condense huge amounts of information to decks and carry it with me wherever I go. After discovering Anki, the program quickly became part of my daily train or bus commute round NYC. Download the desktop app, download a few decks and experiment with them. If you like it, incorporate into your study routine.
Introduction to Anki Youtube video:  http://www.youtube.com/watch?v=c0dI2VyLDWw&feature=PlayList&p=4221D2E6B440D79B&playnext_from=PL&index=0&playnext=1
17.) Facebook Language options – Change your facebook to Spanish.
I've found that one will learn a language much faster if they try to expose themself to thier target language as often as possible.
And if you can find ways to replace what you would normally do in your everyday life with activites in your target language, you will no doubt learn much quicker.
As it's oh so easy to spend hours upon hours cruising round pages on the ol' facebook, why not change the language options to Spanish, and take your cyberstalking (I kidd, I kidd) to new plateus.
You'll find a world of new vocabulary.
Just login to your account.
Then go to "home" –> "account settings" –> "language options" –>  "español," –> "save settings"
and you're golden.
18.)  La RAE (La Real Academica Española)
One cannot study spanish without being in the know about La Real Academica Española. Founded in 1713, originally to "fijar las voces y vocablos de la lengua castellana en su mayor propiedad, elegancia y pureza," or something along the lines of "to set or fix the voices and vocabulary of the castilian language in it's higest quality, elegance and purity."
Its principal mission: "velar porque los cambios que experimente la Lengua Española en su constante adaptación a las necesidades de sus hablantes no quiebren la esencial unidad que mantiene en todo el ámbito hispánico."
Or in other words, "to watch over the changes that the castilian or spanish language experiences in its constant adaptation to the needs of its speakers, and that the essential unity maintained in the all of the hispanic realm doesn't break."
Essentially La RAE is the Spanish authoritive institution on all things Castellano. La RAE offers online dictionaries, references, grammar topics, linguistic discussions, and much more.
If you're into studying spanish, this is definitely a cool site to check out.
The Cervantes Institute was originally created in Madrid in 1991, but now has offices in 77 cities all over the world, in 44 different countries, and on five continents.
It's a public institution with the goal of promoting Spanish and all it's co-official languages, as well as spreading the culture of Spanish speaking countries around the world.
They offer Spanish culture and language classes, have an online library, and frequently publish articles on all sorts of different topics related to the Spanish-speaking world, not to mention they offer a pretty extensive list of lesson and learning content on their website.
Check it out here: http://cvc.cervantes.es/aula/lecturas/
Here is a list of their offices all around the world: http://www.cervantes.es/sobre_instituto_cervantes/direcciones_contacto/sedes_mundo.htm
If you live near any one of them, pass through, find some inspiration for your  learning —  I'm sure they can help get you started.
20.)  Wikipedia en español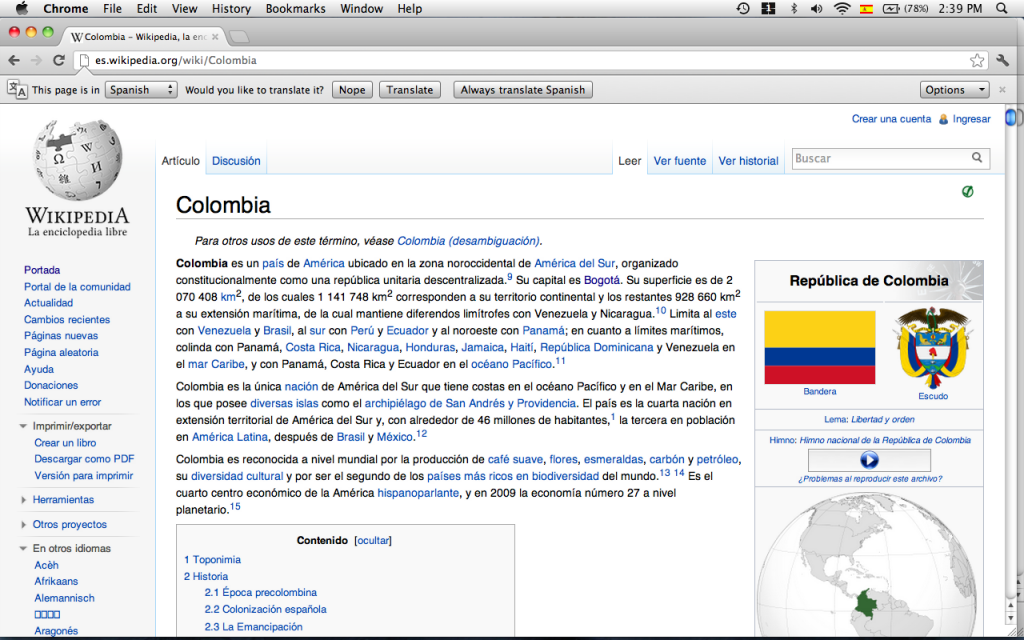 I think we all know just how amazing wikipedia is.
There are over 879,000 articles alone listed in Spanish. You're bound to find some article that coincides with something your interested in.
And I find that if you study material that plays into your interests, the information and words stick better, they're more memorable and the process is just all around more enjoyable.
Also, it's very good for subject specific vocabulary.  Just check out the wikcionario.
Bonus:
Wikipedia entry on Spanish Grammar: http://en.wikipedia.org/wiki/Spanish_grammar
And while we're on the topic of Wiki, allow me to talk about…
21.) The Wikibooks and Wikiversity Spanish Courses.
Essentially, these two wiki sites offer online spanish courses with lessons, exercises, verbs, grammar explanations — everything you'll find in a spanish textbook that you'd probably have to buy for an introductory college course.
You can even download the course in PDF form for offline study. And it's free. Need I say more. Check it out. Explore what it has to offer. Combine this resource with others. Don't stop believing!
22.) Foreign Service Institute Free Language Courses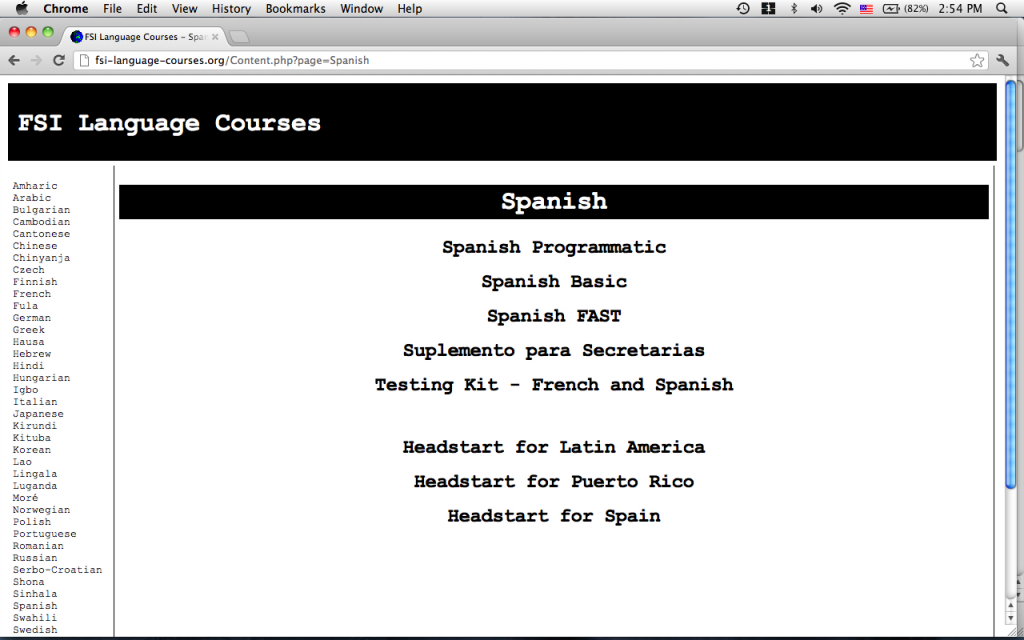 This site is home to the language courses developed by the Foreign Service Institute. These courses were originally developed by the United States government and are in the public domain for your, I say, your use.
And there are over 40 language courses represented. Among the spanish variety there are 6 different coures, each including a textbook and audio files to accompany them.
From the website:
"This site is dedicated to making these language courses freely available in an electronic format. This site is not affiliated in any way with any government entity; it is an independent, non-profit effort to foster the learning of worldwide languages. Courses here are made available through the private efforts of individuals who are donating their time and resources to provide quality materials for language learning."
23.)  The Defense Language Institute Foreign Language Center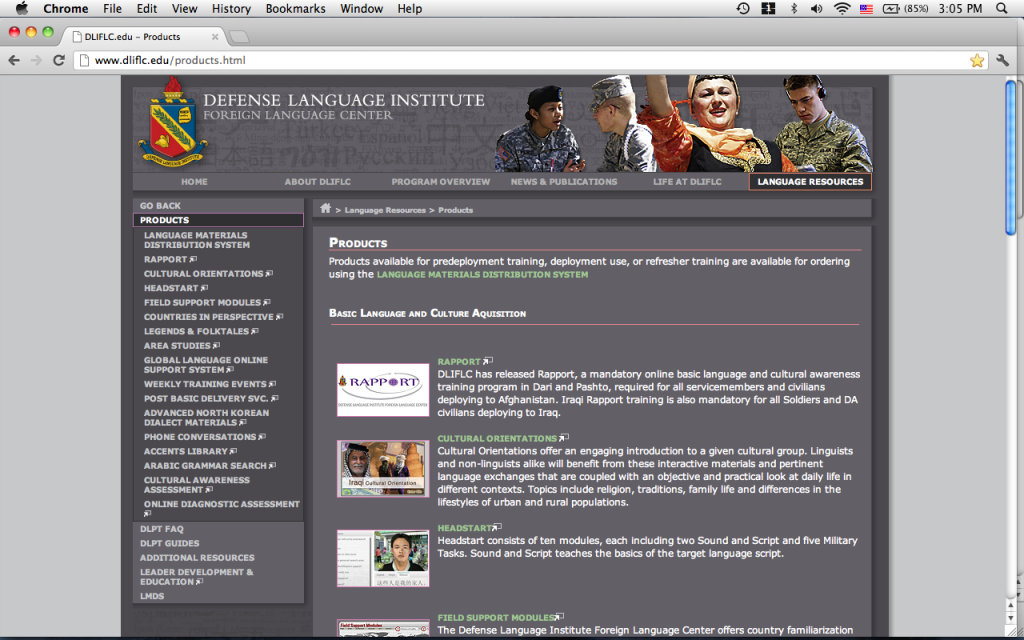 The DLIFLC is essentially an intensive army training boot camp for language learners. This place cranks out some serious foreign language speakers.
According to their website "it is a multi-service school for active and reserve components, foreign miliatry students, and civilian personal working in the U.S. federal government and various law enforcement agencies.
Well, I don't necesarily fall into any one of those categories, so that excludes me from their school, however, you and I both get to benefit of using the resources they offer on their website.
Although, it's a little tricky to naviagate, and sometimes can take a while to load, I have found the following resources pretty damn useful:
 Accents Library: "The Accents Library is a handy collection of accent samples that vividly illustrate regional speech variations of standard language," the website reads.
GLOSS: lessons are developed for independent learners to provide them with the learning/teaching tools for improving their foreign language skills.  Reading and listening lessons are based on authentic materials (articles, TV reports, radio broadcasts, etc.) and consist of 4 to 6 activities.
Phone Project Series: "One of the greatest identified needs of Spanish learners is to be familiar with dialects. This site contains over 300 casual phone conversations in non-standard dialect and lesson plans with support materials for classroom use," the website reads.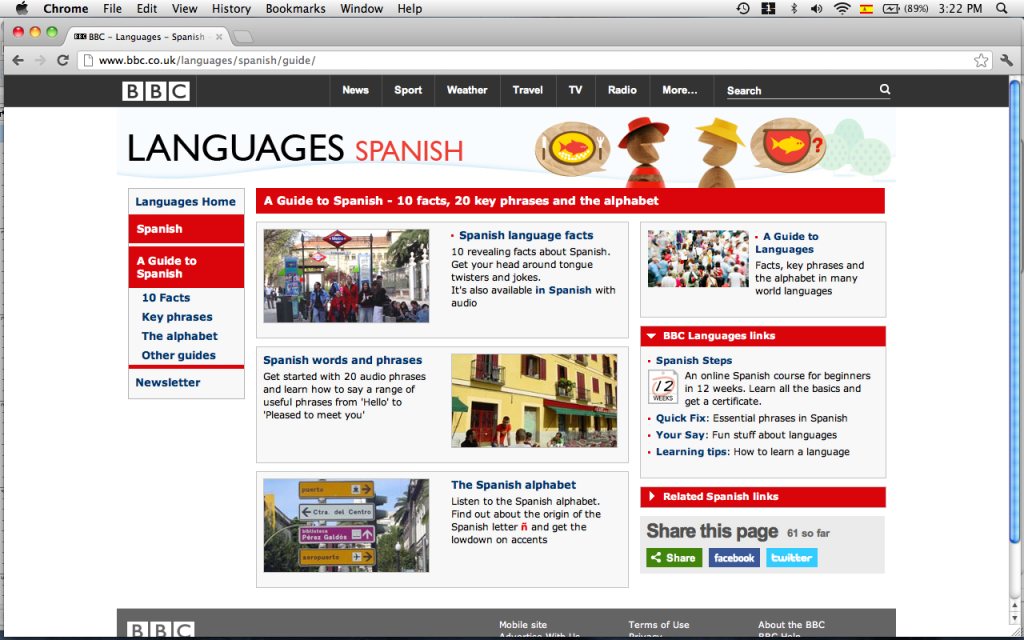 This is a part of the BBC languages Online, which offers many different activities, crosswords, worksheets, language learning tips, phrase of the day, vocabulary, and more.
I originally found out this site after a fellow straphanger on the A-Train in NYC had noticed me reviewing some spanish vocab flashcards I had made and recommended it to me. He was using the site to learn German. I later checked it out and found some really good tips and lessons for beginners.
This would later lead to me to…
25.) BBC Mundo – The Spanish language Newspaper
This is the BBC's spanish language newspaper. They cover many different topics ranging from politics, sports, international news, economny, technology, science, health, society and culture, photos and video.
All around it's a great site to explore different topics of interest in Spanish. I like to read BBCmundo.com with Lingro (see list number 15) and have found it to be great for staying up to date on international news while at the same time exposing myself to new vocabulary.
They also have a weekly spanish podcast discussing different world events with different speakers and interviews.This is yet another good way to expose yourself to different accents and voices, the multitude of diverse accents and topics and themes from around the spanish-speaking world.
26.) Learn Spanish with the Guardian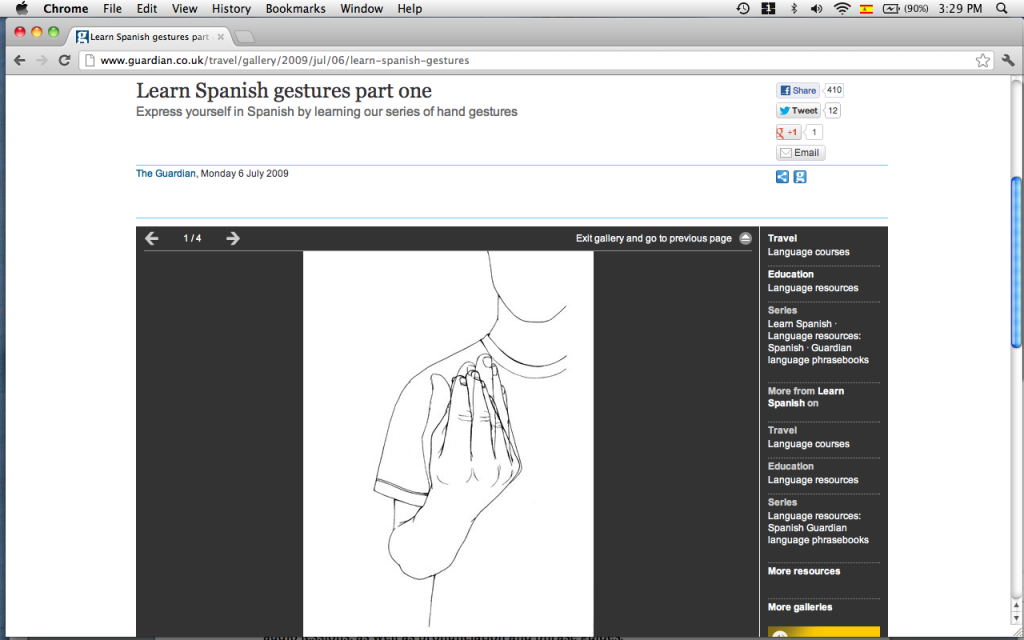 Another introductory course offered by BBC rival news service, The Guardian. They have a great section on Spanish Body gestures with sketch drawings, some beginner audio lessions, as well as pronunciation and phrase guides.
27.) CNN Español
CNN is another News Source with a major presence in the Spanish Speaking world.
They have a large selection of articles covering many different topics in their spanish version site.
If you dig on CNN's reporting, I'd reccomend this site.
26.) ElPais.com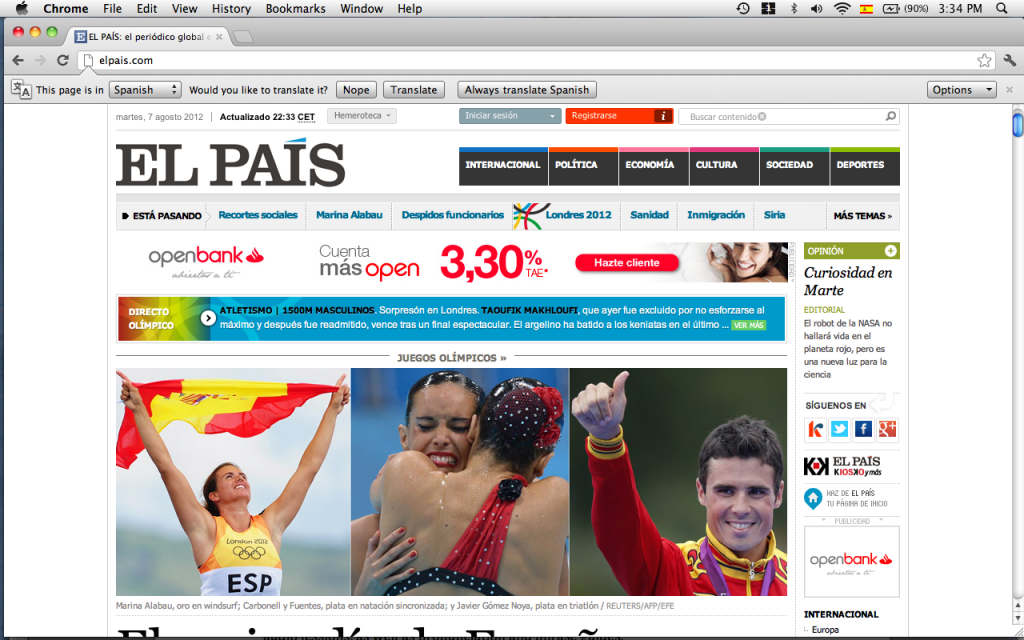 This is Spain's largest and most important newspaper. They cover international topics and their writers are really good. I'd reccomend this to intermediate to advanced learners (or beginners if they're up for a challenge, see list number 13 for more help), but there is a lot of really good spanish language content to learn with and practice your reading comprehension.
27.)  National Geographic en español!!!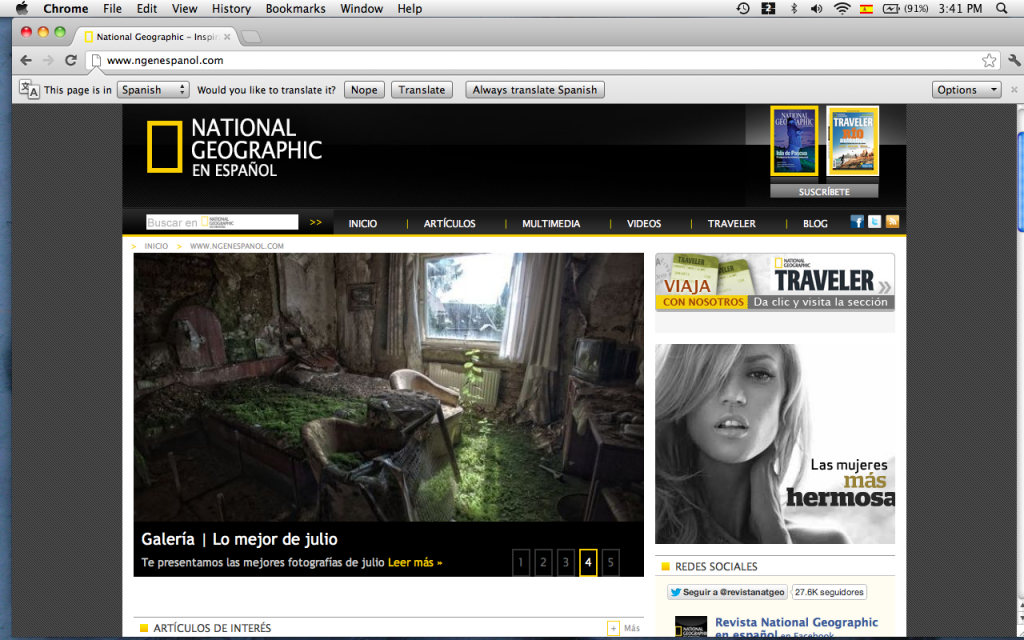 I've loved everything about this magazine since I was a little kid. Now I can further that love by reading it in Spanish.
28.)  Discovery Channel Online — en Español!!!
 Check out their blogs!
Here you'll find some really interesting articles covering all sorts of topics, such as  "How to atract a shark" (Cómo atrear a un tiburón), or why not read about how Hitler used to consume cocaine and inject himself with bull semen to elevate his libido (Hitler consumía cocaína y aplicarse inyecciones de semen), Just to name a few…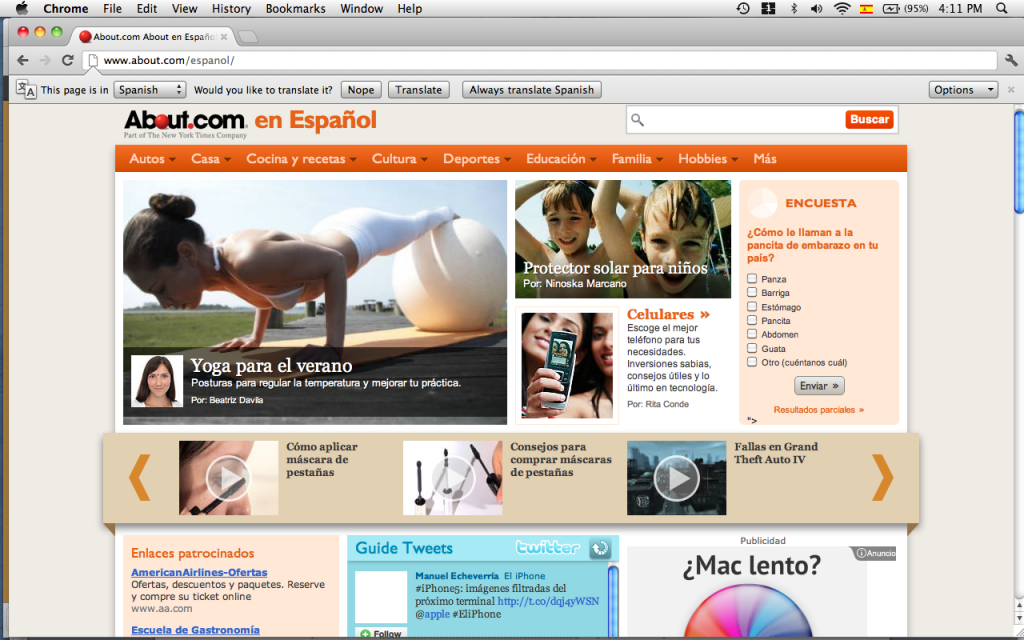 I love about.com.
They have great articles, really useful tips, and there site is loaded with interesting and useful information.
And this is the spanish counterpart to their site.
Another great resource to explore and try to find materials related to your language learning interests.
30.) About.com – Spanish Language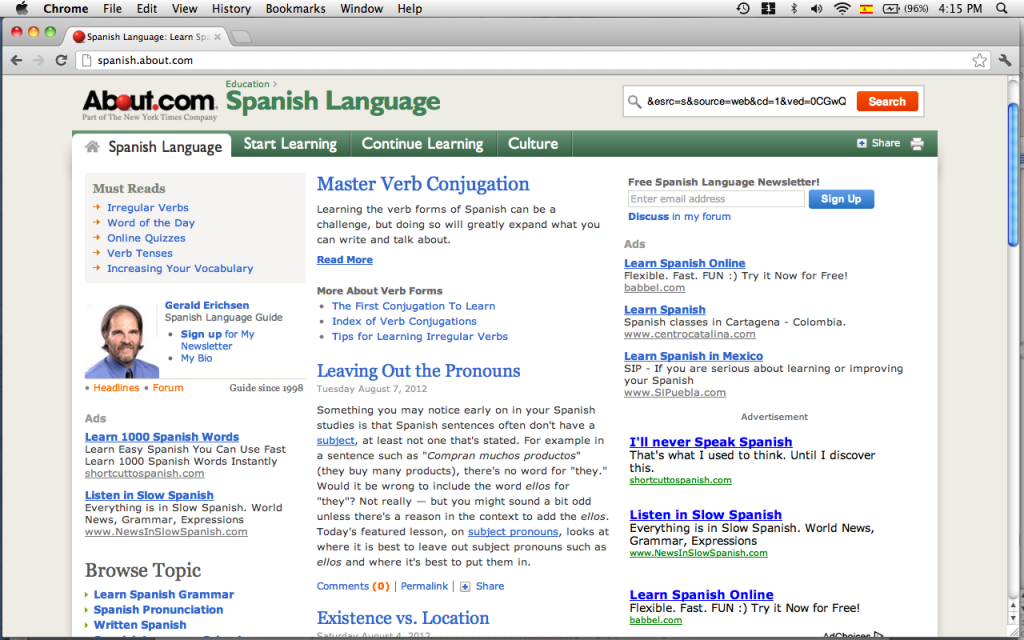 This site is vast!
It's written by Gerald Erichsen, a long-time spanish language learner, who has the uncanny ability to break down complicated subject matter and present it to you in a digestable, interesting way.
I've geeked out on way to many articles on this site. It's all around an awesome resource.
31.) Lomás TV – "Learn Spanish by watching Spanish TV in an online video player designed for Language Learners"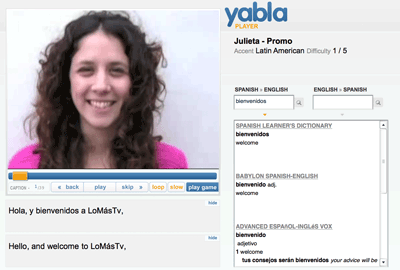 I  have to admit LomasTV is pretty friggin cool.
Although, they only offer a few videos to watch for free, the basic subscription costs only $9.95/month, which gives you access to their whole library of videos ranging from documentaries to music clips to telenovelas and more.
And I do believe they offer a discount to students.
What I found most useful was the slowdown function, meaning that you can pick a part of a video, slow it down, and repeat it, allowing you to hear and fully understand what's being said.
There are dictionaries, grammar and vocab lessons, as well as flashcards, listening games, and more.
If you're a visual learner and like prefer to learn with video, this site might be a good resource for you.
You also might like some of the videos that Lingus.TV offers, a web channel devoted to Spanish education.
32.) Hulu Latino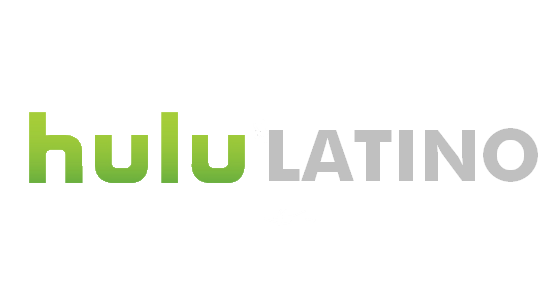 If you're not one who likes to learn by reading, perhaps you're more of a visual learner, let's say, why not check out Hulu Latino, and find some visual learning material to help you with your Spanish.
Unfortunately, this is only available to those who are watching in the U.S. or Japan. However, according to the Hulu website, their programs should be available in other countries soon.
If you are outside of the U.S., have no fear, there are other options, such as…
33.)  Los Simpson — Full episodes of the Simpons en español online
I mean, who doesn't love The Simspons!?
Why not discover the family and characters we all love all over again by digging into some of these episodes.
The voices are spot on, not to mention the Spanish doens't favor any specific accent, so it's easy to understand.
I found watching these espisodes to be a a great way to take a break from studying while also…remaining…studying…
Pick a season and have at it.
Here's an interview with Beto Velez, la voz de Homero (the voice of Homer) (en español): http://www.youtube.com/watch?v=7_lOwSLYAPA&feature=related
And if you dig on Los Simpson comics, you can download every single issue here:
http://www.mundosimpson.com.ar/comics.html
… which brings me to my next topic:
34.) Comics! en Español! Mafalda, Dilbert, Calvin and Hobbes, Garfield and more…
Aside from the Simpsons comics above, I first started reading spanish Comics after a professor of mine at university had recommended that I read Mafalda, an argentine historieta from the 60's, that she had grown up reading.
Turns out that Mafalda is pretty popular all over the spanish speaking world, and can easily be found online.
You can check some of them out here:
After I discovered Mafalda, I wondered if there might be comics that I had read as a young one translated into Spanish…You better believe it!
Calvin and Hobbes. Check. Dilbert. Check. Garfield. Check. Marmaduke. Check. Marvel. Check. DC. Check, check, check 'em out here:
Dilbert:
And you can always Google Image Search "Dilbert en español" for more Dilbert comics.
Calvin and Hobbes:
Again, if you want more or a different variety, just try google image searching "Calvin and Hobbes en español."
Garfield:
Google image search: "Garfield en español"
Marmaduke:
Marvel Comics en español:
DC comics en español:
35.) Zambombazo: "Fun Spanish Worksheets"
This site has a huge array of free activities to learn spanish using "authentic cultural products," such as videoclips, songs, news, comics, etc. There's defintiely something for everyone here. I'm definitely a sucker for Miáucoles, from the humor section.
From the Website:
Una variada oferta de actividades divertidas basadas en productos culturales auténticos (videoclips, canciones, tiras, noticieros, etc.) en las que se pretende aprender por descubrimiento sobre el idioma español y las culturas del mundo hispanohablante.
36.) Ciudad SEVA
I first got hip to Ciudad Seva while taking a short story latin american literature class in University.
Being the broke student that I was, I would look for any way I could save money, even if that meant not buying the coursepack and opting to find the reading materials online.
Ciudad Seva came to the Rescue.
Here you'll find an incredible library of spanish language literature and poetry.
Open up the page with Lingro.com, and keep a tab open with wordreference and you'll be on your way.
37.) The Polyglot Project – Read Books Online
Here's another great resource for to find reading materials online. The Polyglot projects has some 27 spanish language books, biographies and literary classics, all with clickable word definitions and you can save words from the text in lists for future review. Ch-ch-check it!
38.) Children's Books
Yep, that's right, take it back, way back…Here you can find a massive library of children's books in Spanish.
As one's language capacity is essentially reduced to that of a child upon embarking upon learning a new language, it might be a good idea to warm up, well, by reading children's books.
Read'em out loud.
Associate words with pictures.
I can almost guarentee you'll learn something new.
39.) Lyrics Training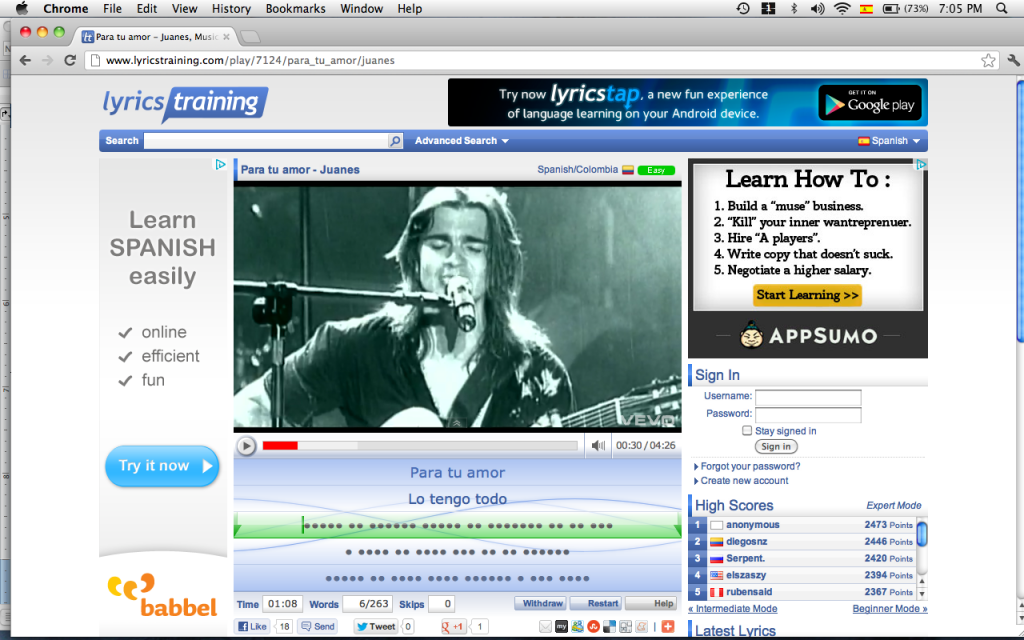 This site is similar to LomasTv, however, it's free, but doesn't offer nearly as much material or learning functions.
It's exactly what the url describe: lyrics training; using songs and lyrics to learn your target language.
The site allows you to search based on difficulty, use youtube videos with the lyrics provided, which are synched up with the song.
One of the coolest features that I like about the site is that you can play games based on each song, where they omit certain lyrics, based on difficulty, and you have to type them in while racing against the clock. You are given a time limit for each "fill in the blank" and the song will pause while you attempt to answer.
This makes you listen much more cautiously which definitely helps develop your ear for understanding the rythym of the language.
Tip: If you can't find the video you're looking for with Lyricstraining.com, try searching youtube for the "karaoke" version of the song.
Try search terms like "Name of song Karaoke en español" or "name of song, karaoke, letras, en español"
The karaoke version usually has the lyrics synched up with the song, so you can follow and sing along. Great for pronunciation practice.
40.) The Sounds of Spoken Language – The Phonetics Flash Animation Project.
Have any questions, doubts, concerns regarding the sounds of spoken Spanish? Thanks to the work of the good people at the University of Iowa, you can find animated libraries of the phonetic sounds of Spanish (as well as English and German), along with animated articulatory diagrams for each vowel and consonant, and step-by-step descriptions, videos and audio of the spoken sounds in context.
This site was specifically created for students of phonetics, linguistcs and foreign language. Oh so righteous!
41.) Forvo.com – "All the words in the world. Pronounced"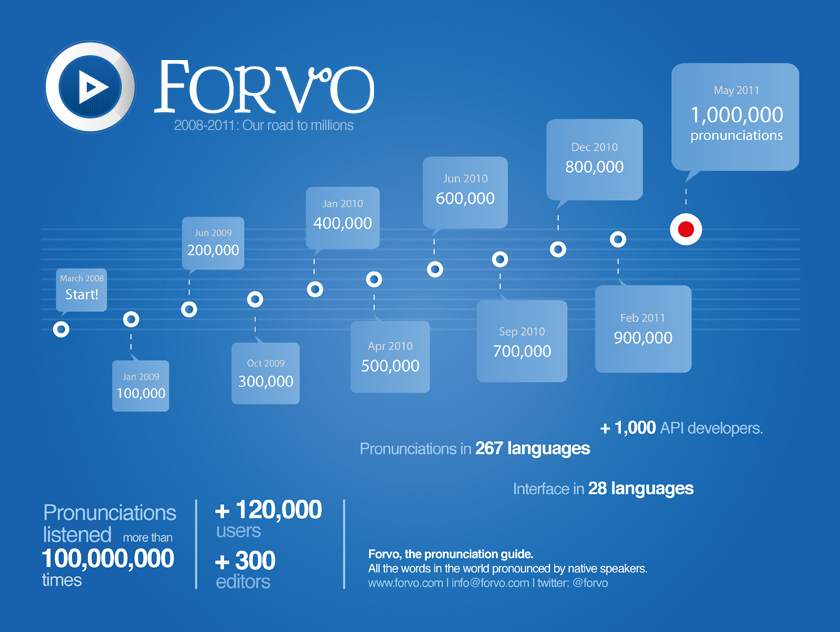 This is a really good resource for figuring how out to pronounce specific words in your target language. There's over 50,000 pronounced words available in Spanish alone. If I ever have doubts on the pronunciation of a specific word, Forvo is my go-to site.
42.) The Open University – Spanish Podcasts and Free language course
 Here you can find multiple free Spanish learning courses catering to all different skill levels. They provide podcasts from all over the Spanish speaking world with content transcripts included. What's not to love!?
43.) Spanish Proficiency Exercises – University of Texas at Austin
Here you will find a vast library of different video and audio podcasts structured around different topics with different Spanish speakers from all over the world.
Each topic is broken down into tasks for beginner, intermediate and advanzed learners. And like all good podcasts, the transcripts are included.  Did I mention there is an extensive grammar index? Peep!
44.) The Internet Polyglot: Spanish Lesson Catalog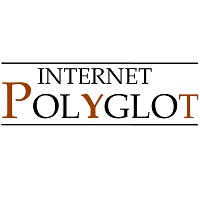 This site is amazing! I just have to come out and say it up front.
The main reason being that not only are the lessons easily broken down by themes such as animals, weather, colors, sports, education, human characteristics, etc., but also are available for non-native English speakers.
You can find Spanish lessons for speakers of Swahili, Hindu, Turkish, Greek – even Ahmharic.
45.) The Omniglot Forum
Alright, so this might not exactly be a resource specifically for Spanish learners, rather here you can join a conversation about language learning in general. This forum, however, is no doubt loaded with all sorts of tips and ideas about independent language learning.
It might be a really good place to go before you embark on your studies. Give it a glance, you might find something useful…
46.) Couchsurfing.org
This website is the gem of gems. It was the gem before gem was even gem, ya dig…
Quite possibly one of the greatest, if not the greatest tool available to any language learner, especially of the traveling sort.
I have met so many amazing Spanish speakers through Couchsurfing.org. Its ability to somehow bring me together with some of the most unique and inspiring individuals in my travels still blows my mind.
A lot of people think it's only a resource to find a couch or place to crash or stay while traveling, but this is very much false.
It is indeed a good way to find a place to stay in far away lands, but also within it there are hundreds of groups, little communities that organize events, picnics, parties, concerts, shows, meetups, get-togethers and what have you all around the world.
Check out some of the local groups within your city, town, county, village, I can almost guarantee you'll find someone worth meeting, and I bet there are some people out there with whom you can practice your target language, practice your spanish.
If you're already a member, check out my profile. And if you happen to be traveling through South America, particularly Colombia – let's kick it!!!
47.) iTalki.com
I happened upon iTalki.com and some of these other language partner exchange websites (mentioned below) a little late in the game, but I've been hearing and reading nothing but good things about them.
iTalki allows you to create a profile and find an online language partner within their community of almost 1 million speakers and language teachers.
You can create blogs and online diaries within the communuty to practice your writing and then have your compositions corrected right then and there. If I wasn't writing this from Medellín, Colombia – you better believe i'd be on iTalki looking for a paisa with whom I could practice my colombian spanish. I-Double-L.
48.) Livemocha.com
Again, I'm not too, too familiar with Livemocha, but after just having signed up, checked out the all that it has to offer, I must say – this site definitely has a lot, I say, a lot of potential for language learners.
The one downside is that it's not completely free. They do have a vast catalogue of lessons that include audio and video content.
There are tutors and sections for writing and speaking practice, along with vocab lessons and flashcards. And of course, there is a langauge partner service. Seems almost too good to be true. Definitely worth giving it a glance.
49.) Busuu.com
 Here is yet another online language learning community that offers grammar guides, mobile apps, interactive courses, and a language partners. ¡Porque no!
50.) Themixxer.com – A free educational website for language exchanges via Skype
From the website: "The Mixxer is a free educational site for language learners hosted by Dickinson College. The Mixxer is designed to connect language learners around the world so that everyone is both student and teacher."
Everybody needs a language partner. Start here and you just might find one…
Have I missed any? Are there more out there?
What resources have you used to help your Spanish language learning? Let us know below in the comments and I'll keep updating the list.